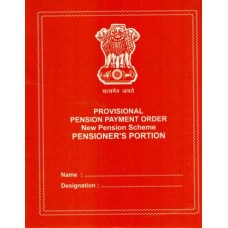 WE ARE GLAD TO SEE THAT OUR DEMAND FOR GRANTING PROVISIONAL PENSION TO ALL VRS OPTEES IS ACCEPTED BY DEPT OF TELECOM.
WE RECEIVED INFORMATION FROM MANY CIRCLES THAT BSNL OFFICES FAILED TO SEND THE HARD COPIES OF PENSION PAPERS TO CCA OFFICES PROMPTLY. NO DOUBT, THE VOLUME OF WORK IS HUGE. WE, THEREFORE, ANTICIPATED SOME DELAY IN GETTING PENSION BY THE VRS OPTEES WHO WERE SENT OUT OF THE OFFICE WITHOUT PAYING THEIR WAGES FOR DECEMBER 2019 AND JANUARY 2020.
HENCE WE TOOK UP THE MATTER WITH DOT. NOW, DOT HAS ISSUED ORDER TODAY APPROVING GRANT OF PROVISIONAL PENSION -- 50% OF THE LAST PAY DRAWN IN JANUARY 2020 - TILL REGULAR PPO IS ISSUED.